Howdy kinksters!
You may have noticed a substantial change to all of our content in recent weeks; now, when you see a shoot you like - instead of having to do nth dimensional calculus problem to determine whether a scene deserves a four star or a five star rating - you can simply choose to give it a thumbs up! Conversely, if a shoot you started watching just isn't your thing, you can give it a thumbs down.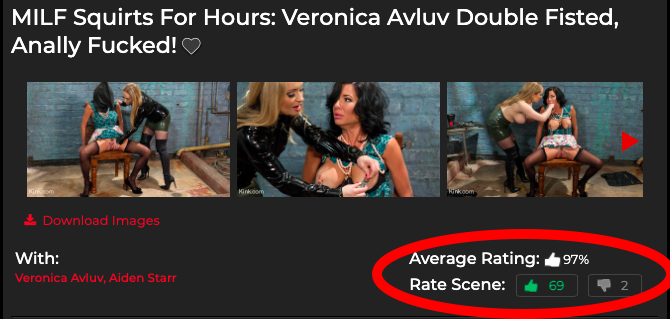 What previously would have been considered a three (3), four (4), or five (5) star rating is now just an easy-to-use thumbs up, whereas a scene that might've been given a one (1) or two (2) star rating is considered a thumbs down.
These ratings are then used to provide you personalized recommendations based on the content you have given a thumbs up - you can see these recommendations by hovering your cursor over the words "My Kink" at the top of any page on kink.com and then clicking on "Favorites" from the drop-down menu that appears.
Once there, you will see a shoot carousel labeled "Recommended for You" underneath the carousel of content you've favorited by clicking the heart button. This carousel contains a list of algorithmically "hand-picked" recommendations of content we think you would like based on the shoots you've given a thumbs up!

We hope this helps answer any questions you may have about this new functionality of kink.com and how it helps us serve up the content you crave! As always, if you have any questions or comments, you are welcome to respond to this FAQ post or send us a message at support@kink.com.